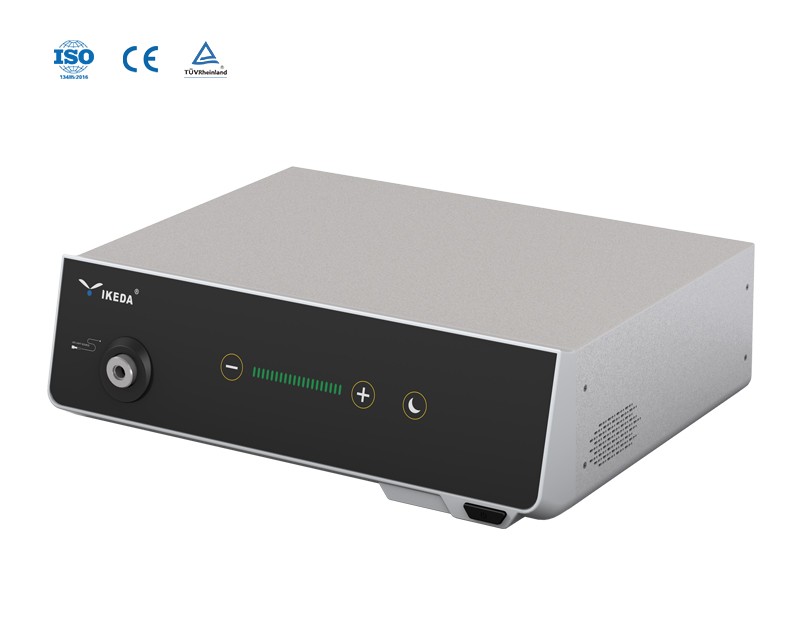 YKD-9107 Medical Endoscope LED Cold Light Source
Description:LED Cold Light Source
Model: YKD-9107
Brand: IKEDA
Usage: All minimally invasive surgeries
Product Details
Medical Endoscope LED Cold Light Source YKD-9107
Product Features
1. adopted imported medical LED,Strong stability,Good anti-seismic property.
2. Long service life:working time more than 50 thousand hours,minimizing the need to replace the bulb,cost saving.
3. Color temperature purity and high brightness, no stray lights.
4. High brightness: great transparency,Excellent color rendering,great three –dimensional sense of the surgery.
5. Good compatibility:International standard light guide cable,like Storz,Olympus,Wolf etc.
Technical Parameters
| | |
| --- | --- |
| Light source | 80W LED cold light source |
| Color temperature | 5000k-7000k |
| Luminous flux | ≥1500Lm |
| Color rendering index | ≥90 |
| Output hole size | 10mm±0,1mm |
| Function | Light intensity indicator Sleep function |