Released on May. 28, 2021
Digital electronic colposcope is a fourth-generation high-tech digital imaging system integrating modern digital electronic technology and computer technology. Through the computer, the image of the inspection site is clearly displayed on the computer monitor in real time. Its high-quality light source and high-magnification clear image can identify extremely small lesions. The doctor can observe the lesions on the computer monitor, which is easy to operate and can be used for the two processes of diagnosis and treatment. At the same time, using the colposcope digital image processing and graphic report system, it can collect, freeze, analyze, process, store and print the observed images for integrated operation and management, providing doctors and patients with better quality Service.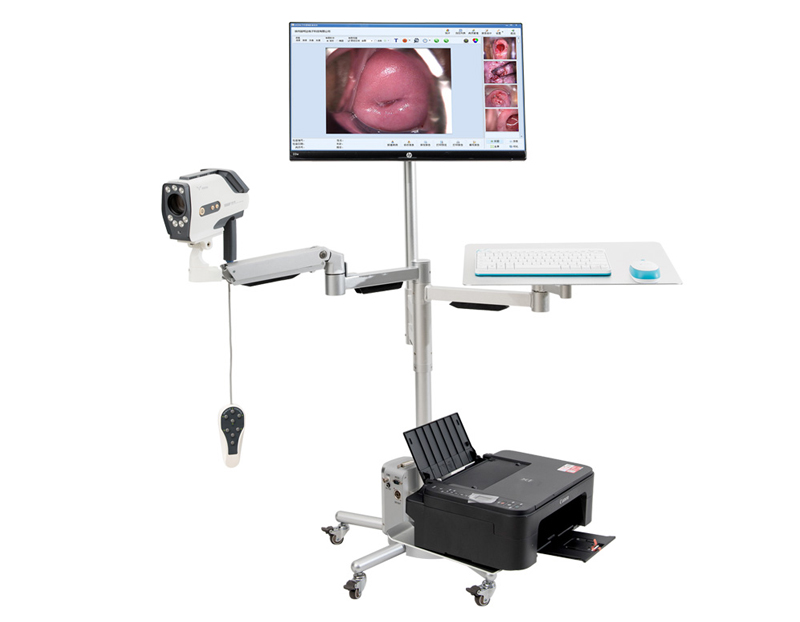 The YKD-3003 uses an authentic SONY digital camera for unbeatable crystal-clear imaging.
① HD Images
Amazing 2.1 megapixel SONY camera gives you the highest quality vulvar and cervical images on the market.
② Mini LCD Viewing Screen
Adopt imported camera, Built-in high-definition 3.5-inch LCD screen for easy observation;
③ Light Source
Energy-saving LED light source, with high brightness, LED light source, high Color rendering index.
④ Bracket
The integrated design of the camera and the bracket is adopted, the unique hovering function can be rotated at 360°, the five-jaw bracket is more stable,provides a flexible solution with more room between the examiner and the patient.
⑤ Display
≥21.5" color liquid crystal display
⑥ Printer
⑦ Hands-Free Image Capture
Support foot switch control, mouse control image acquisition,support examination results or surgery video function.
Specifications of HD camera :
Camera type: 1/2.8inch SONY CMOS
Resolution :2,100,000 pixels
Image size: 1920*1080
Horizontal Resolution : more than 800 lines